FYZICAL Forums - September/October 2019
Come and learn about new strategies and solutions to reduce your pain, improve your sleep, increase your function and add healthier options into your diet. Whether you have been diagnosed recently with an illness, have lived with chronic pain for many years or just want to get healthier, these forums may be right for you. There are many new ways to assist your body with handling the symptoms of pain or prevent pain from happening in the first place.
---
Friday,September 27th
4:30 pm - 5:30 pm
Sharon Keirn-Whiting
Certified Yoga Instructor with over 12 years of Yoga teaching, certified group fitness instructor and former school social worker
Chair Yoga
Have you been curious about yoga but too afraid to try? If so this forum may be right for you. Chair Yoga is a great introduction to yoga or a welcoming practice for you. Adaptations of yoga will include postures sitting in a chair or standing using a chair for support. This class will support increasing flexibility, strength and body awareness. Breathing is emphasized for reducing stress and moving mindfully. No experience is necessary. Loose, comfortable clothing suggested.
FREE!
---
Friday, October 11th
4:30 pm - 5:30 pm

Sheryl Poremba, PT, CCM
Licensed Physical Therapist, Certified Case Manager, Educator, Functional Nutrition and Lifestyle Practitioner, Certified Wahls Protocol Health Professional, and Amen Clinics Certified Brain Health Coach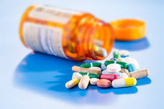 The Pill Paradigm Shift
Have you ever wondered about the side effects and adverse reactions your medications may be causing? This engaging forum will provide a practical primer on signs and symptoms of nutrient depletion caused by common medications or "drug muggers"". This presentation will also introduce how certain foods can decrease the effectiveness of prescribed medications, potential nutritional remedies for common "drug muggers"", and the impact of medications on your health and functional well-being.
Based on the book "Drug Muggers" by Suzy Cohen, RPh
FREE!
---
Saturday, October 19th
7:00 pm - 9:00 pm
Henrietta (Hank) Hammerlund
After attending a Richard Rudis Gong Bath (Sacred Healing Sound Healing) session Henrietta began to study sound healing with him. She has acquired her individually unique set of bowls, rain-sticks, drums, gongs and bells that she now uses in her Vibration Sound Meditation sessions. Her Vibration Sound Meditation sessions bring together both a studied and intuitive approach to the use of these instruments in connecting individuals to their unique mind-body-soul connection with sound.
Vibration Sound Meditation Journey (Gong Bath)
Henrietta takes you on a meditation journey by creating resonating, harmonic sounds using her singing bowls and gongs tuned with the moon & wind. These sounds create deep vibrations that encourage cells, organs, and systems to re-tune at their balanced frequencies. The harmonic vibrations flow to and through the chakras and within the points of the body where tension or injury memories may be stored. The sounds of these instruments provide a centering point of focus for our busy minds to find a natural state of peaceful relaxation.
Your part is natural and easy.Come and sit or lie down to allow the vibration to enter your being. Bring a blanket and pillow.
Cost is $25.00 for the session.
Space is limited so register by calling 630-369-1015
or emailing mrachford@fyzical.com.
Like our Facebook page for future topics or to view past videos of forums.