Whether it's to improve performance, promote healing during rehabilitation, or help you move pain-free in your daily activities, Incrediwear offers a variety of products from head to toe. Infused with a blend of elements like germanium and charcoal, which as stated on their website, "release negative ions when stimulated by body heat," makes these products unlike any other compression sleeves available today. Incrediwear aids in reducing inflammation, swelling, and pain while increasing circulation and accelerating recovery to those areas that need it most. A video (under a microscope) can be found on the Incrediwear website showing the rate of blood flow through the capillaries when the product is worn. The difference in blood flow speed almost doubled when the Incrediwear item was worn compared to when it wasn't!! With an increase in blood flow, more oxygen and blood can be facilitated to the injured or painful site leading to a quicker healing process.
Here at FYZICAL - Naperville, we offer a variety of Incrediwear products including back and shoulder braces, knee and ankle sleeves, along with ankle and knee-high socks. Whether you suffer from poor circulation and inflammation, or experience daily aches and pains, we have many styles to choose from. Many of our patients and even current therapists have tried Incrediwear to help with some of these issues and have seen and felt great results after just wearing their Incrediwear overnight.
We've received many testimonials regarding how much Incrediwear has helped individuals suffering from daily aches and pains or swelling and has allowed them to do their daily activities with much less pain. As mentioned in one of our Facebook posts, a patient who tore a ligament in her knee (confirmed by an MRI) stated she could not put weight on her leg until she wore the Incrediwear knee sleeve for 24 hours. The next morning, she could walk with a limp and had a reduction in pain.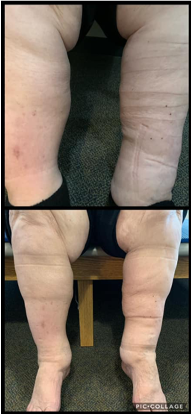 Mary Rachford, physical therapist and co-owner of FYZICAL - Naperville stated, "I have never been more impressed with a product in my 32 years as a physical therapist than I have been with Incrediwear. My patients are coming back with reductions in pain and swelling and asking for a second one because they like it so much. I wear the socks every day and sometimes through the night after recovering from a volleyball game. These sleeves have been a game-changer for our patients."
Mary has also tried the Incrediwear wrap, knee sleeves, and socks on one of her patients. "She suffers from major edema in her legs due to lack of mobility, joint pain, and arthritis. This patient had been wheelchair-bound for over 9 years and thanks to PT and OT she has lost over 40 pounds in 7 months and is now able to walk 75 feet with a walker several times in each therapy session". The addition of the Incrediwear products recently has made a large impact on this patient by decreasing much of her edema and swelling, as seen in the pictures to the right.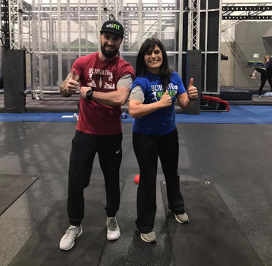 As pictured, our very own occupational therapist and co-owner Dina Kartsonas also wore her Incrediwear shoulder sleeve alongside with NETFLIX's Ultimate Beastmaster and American Ninja Warrior, Brian Redard, in order to help relieve pain, recover, and heal faster after an intense workout.
Several of our patients have taped their experience with the product. If you are interested in learning about the benefits of Incrediwear you can visit their website at www.Incrediwear.com for more information and testimonials on their products.
As always, you can call (630) 369-1015 or visit our social media platforms at www.NapervillePT.com, our Facebook page at FYZICAL Therapy and Balance Centers - Naperville, Twitter, and Instagram.
Use code FYZICAL001 for a 20% discount and free shipping on orders over $100.